Four days, three summits, two mountins and one canyon, that is possible only in Montenegro! For every fan of outdoor sports, Montenegro is winning combination.
So we went to our favorite mountains for the umpteenth time. Ture goal was the climbing some summits of Prokletije and Komovi mountains, and one trad rock climb . However, the weather was not in our favor, so for 5 days we had to change our precise planned routes several times, so in the end, everything would become a trip without any plans, where we
in the evening
morning planned what to do
next
that morning …What would wise people say "The morning is wiser than evening".
Prokletije
Since it was raining in Komovi, we went to Prokletije. There, in the following three days, we climbed Severni Vrh (), Očnjak, some sports paths and enjoyed in natural beauty of that region. Here we go…
click images to enlarge / kliknite na fotografije za veće
The view from the valley Grbaja of the peaks of Albanian Prokletije. The valley Grbaja was the starting point of our climbing.
The goal of first climbing was the peak Očnjak, 2185 metres, not the highest, but the most difficult in the Montenegrin part of Prokletije. Years ago, it was possible to reach the top only through rock climbing routes , but since the sixties there is also hiking trail, which is very dangerous and exposed in some parts.
Our plan was to climb the top over southern ridge, through "Radnički" route, but since we didn't find the "entrance" , we took the normal hiking route.
Očnjak
Očnjak (2185 mnv.)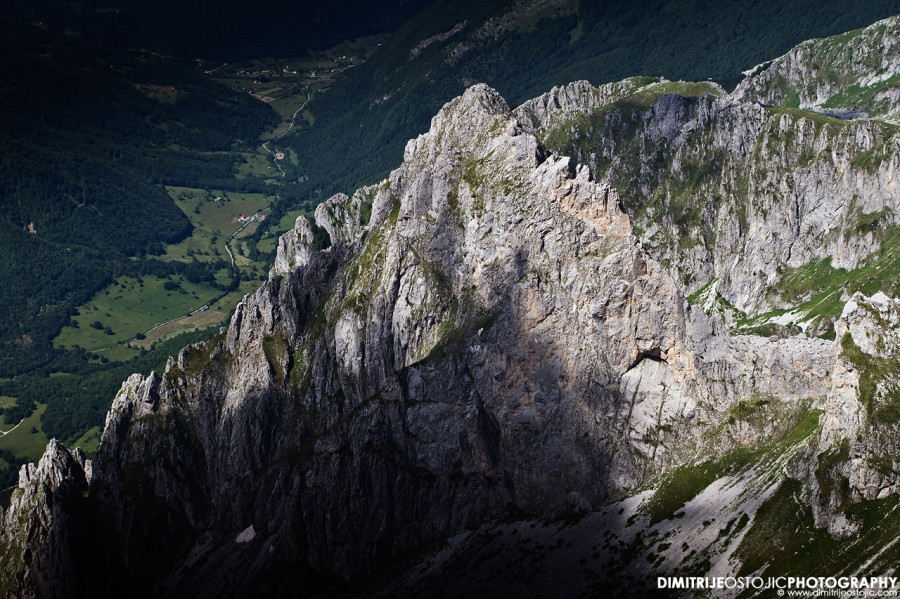 The view from Severni vrh on Očnjak.
South ridge of Očnjaka.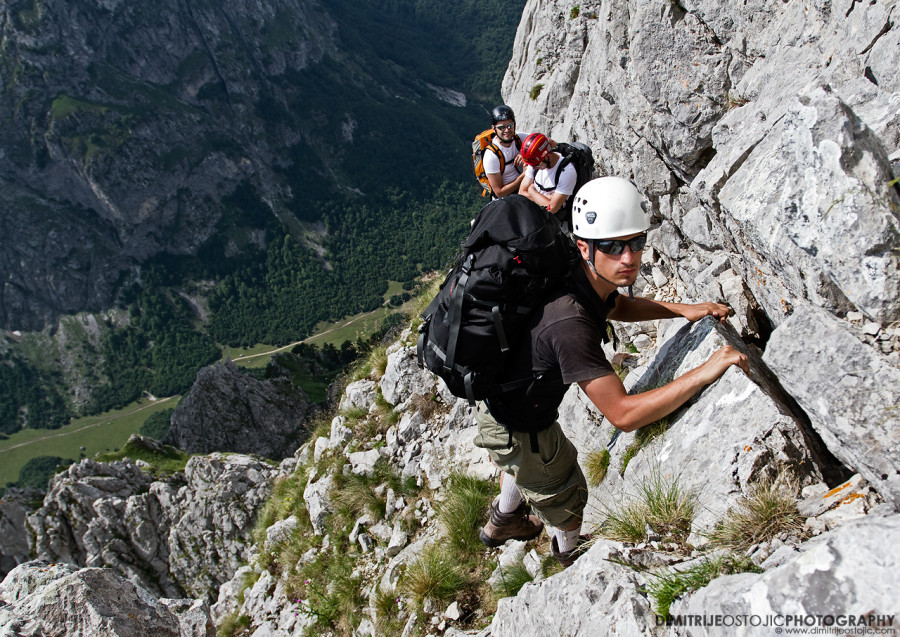 Just before the summit. Final part is going through an extremely steep terrain. Cables on exposed details are very old and it's recommended not to use them. In the back is Grbaja, the valley from which we started.
Finally at the top. Signing in the book, stamping, sunbathing and departure. BTW, that was my third climbing on Očnjak.
Returning the same way…
Ropojana
We used the gloomy day for visiting Ropojana, beautiful valley on the border with Albania. Ropojana and its notability deserve special theme on blog, so Savino Oko, Alipašini izvori and other places will be mentioned some other time ;)
Ropojana valley .
Besides the walking, we succeded to climb some rocks, ten minutes away from Alipašeni izvori.
Viper (Vipera ammodytes), Europe's most toxic snake.
Severni Vrh (Northern Peak)
Visibility was only few metres, and did not promise successful climbing that day. Our tent was in the cloud, and we didn't have days to waste. We decided to take the risk, and went toward Severni vrh with hope that we will be out of the clouds soon. That is exactly what happened, after just 200 meters of elevation , we left the clouds in the valley below us.
Karanfili are certainly the most dominant peak (means the group of peaks) of Montenegrin part of Prokletije. One of three peaks is Severni vrh (2460 amsl), which rises steeply between the valleys Grbaje and Ropojana. The very climbing is not easy, there are some parts under the snow and exposed, but certainly it is one of the most beautiful on Prokletije. During the climbing is possible to se see both valleys (Ropojana and Grbaja), and almost all the tops of Prokletije.
Thanks to the great weather, we reached the top very easy. Most of the time we took the normal hiking trail, except the ridge, where we were practised the simultaneous movement of roped party, as preparation for Alps.
"I told you that weather will be good."
Severni vrh is few hundred metres above us… In this imposing rock there is a lot of (trad) climbing routes.
"Wait until I put on crampons"
We are moving next to the rock of Severni vrh to Krošnjina vrata – narrow passage that lead us to Ropojan part of mountain.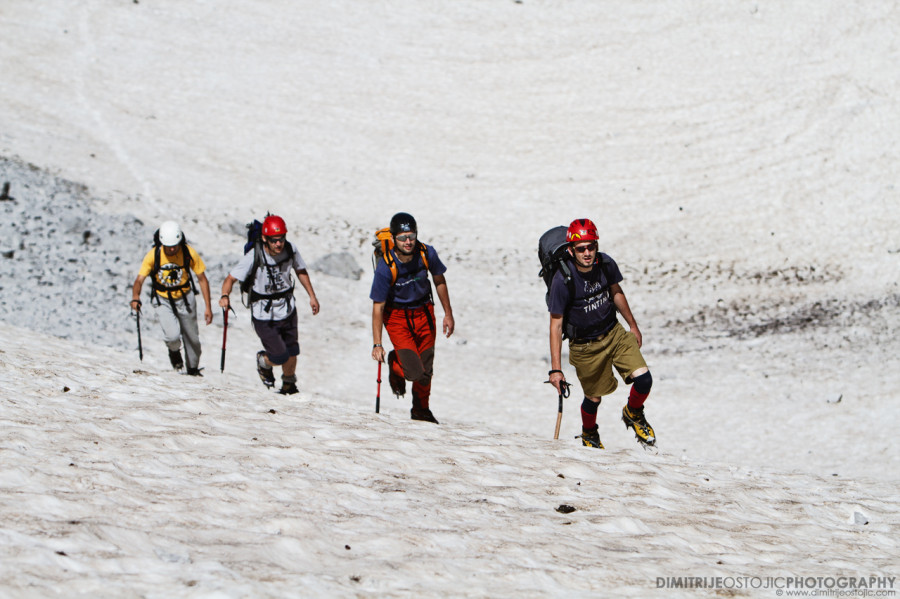 Steep part before Krošnjina vrata is always under the snow, so it is necessary to have appropriate equipment, as crampons and ice axe
The view on Zastan (1384m) , the place where is summer border post of former Yugoslav Army. While the army was there, this was fully functional facility, where hikers were regular guests. Today, when there is no army here, this facility is completely dilapidated. That is sad, because if there were smart people, this facility could be addapted into great mountain lodge, almost without any investments. The landscape around border post is unreal beautiful!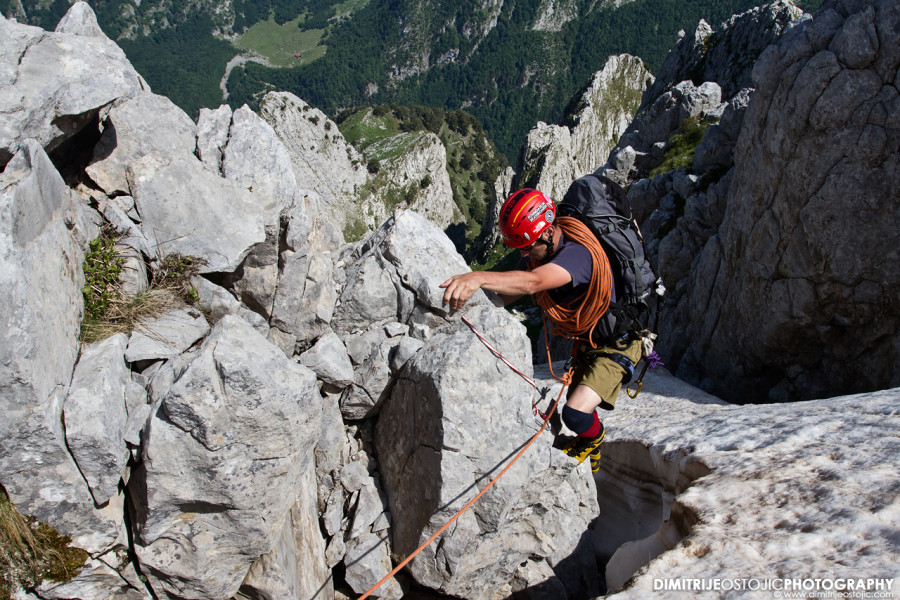 The view from the peak towards Maja Jezerce (2694 mnv.) – the highest peak of Prokletije and Dinaric Alps.
Plav and Plavsko lake.
After more than four hours of walking, here we are on the top.
Canyon Mrtvice
Canyon of river Mrtvica is in the central part of Montenegro, only 40 km from Podgorica. Canyon is very deep, and the height of the cliffs reaches 1100 metara. All along the canyon, there is a nice walking trail, around 12 km long, what makes it accessible to tourists. This place is incredibly beautiful, and I recommend to everyone to visit it.
Soon, I plan to visit this canyon again, but this time leisurely and with full photo equipment. Last time I didn't have time to take photos I wanted.

The gate of wishes


Komovi
Mountain range Komovi is composed of several peaks, and most notably are Kučki Kom (2487 m), Vasojevićki Kom (2461 m) and Ljevoriječki Kom (2469 m). Original plan was to pass Komovi in one day with long ridge tour. However, since we already postponed the climbing due to weather conditions, there was no time for that long and exhausting tour. Instead, we decided to climb on Vasojevićki Kom again, and to use that as check of our condition .
We went in "lite" option, without backpacks, photo equipment or anything that could slow us down. In a strong pace, we were on the summit for less than an hour, which is, actually, very good ;)
The view from Štavna to Komovi. The left peak is Vasojevićki Kom (2461 m), and right is Kučki Kom (2487 m).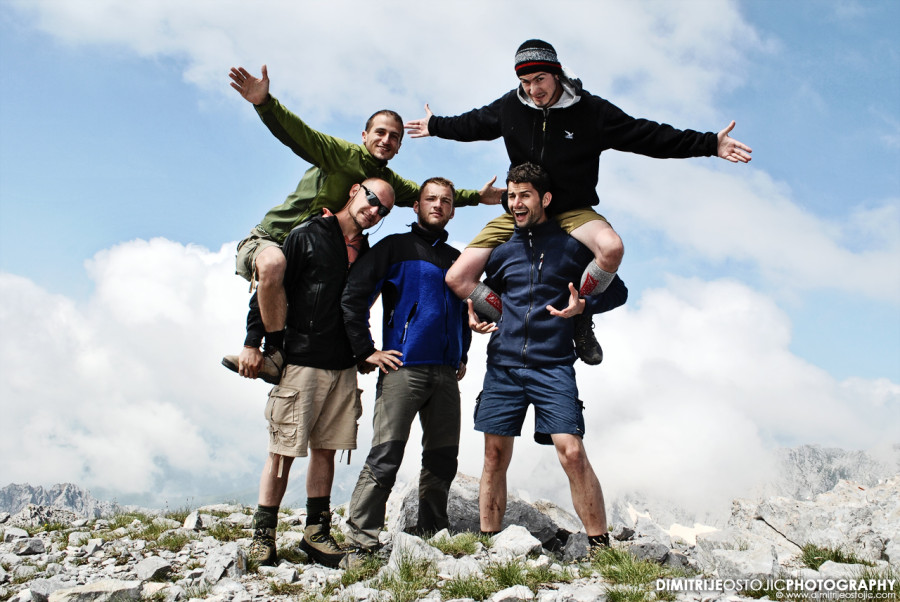 Turbo guys from the summit (L-R) : Brothers Marić, myself & brothers Pajić
*all of this happened in june 2010.
Text and photos: Dimitrije Ostojić