Page 5
click images to enlarge
Tactical Army Aviation Demonstration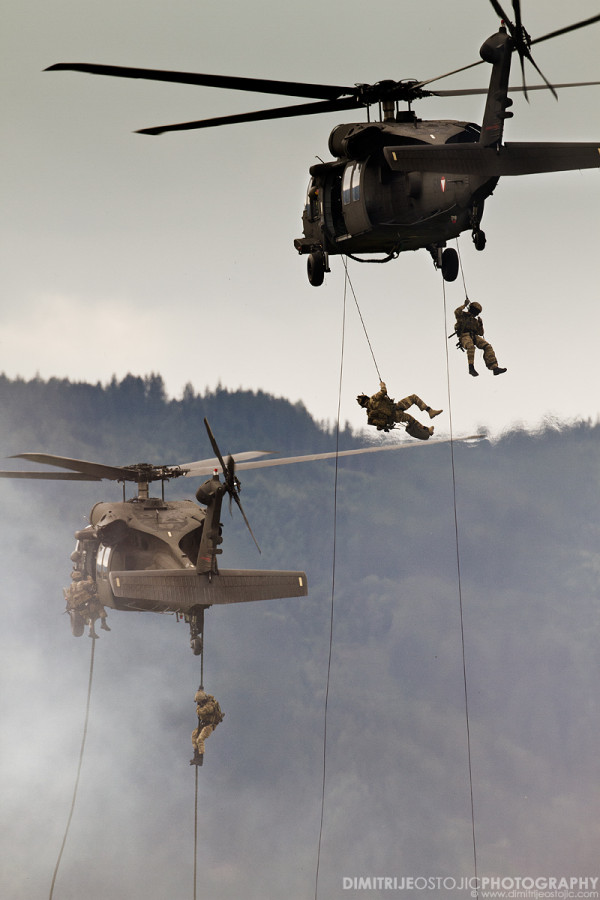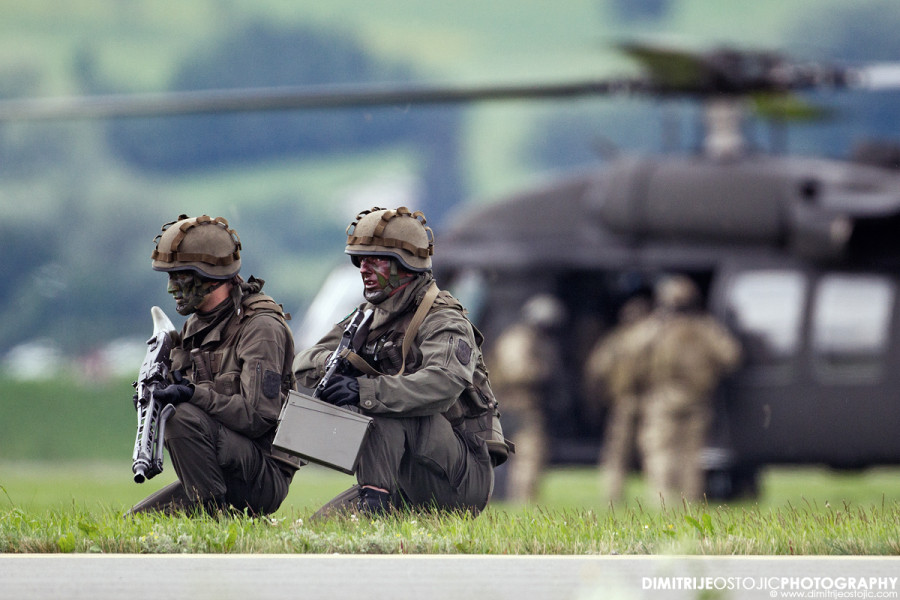 The accident …
Sadly there was an accident on the first day. During the paratroopers assault from the a transport aircraft C-130 Hercules, one paratrooper hit the parachute of another and they both uncontrolled hit the ground . Both Austrian soldiers were lucky to get away with "just" broken pelvis and shoulder and were not in critical conditions. The reaction of ambulance was swift, only 2 minutes after accident first aid was given and 23 minutes later they were transported to the regional hospital with Alouette III. Even though the reaction was fast, to me looking thru the lens, those 20 minutes seemed like eternity…Seriously, after I saw the para troopers hit the ground I didn't think they had a chance in surviving. I hope they fully recovered and I wish them all the best.
Low altitude airborne assult from C-130K. Photo: Dusan Atlagic
Alouette III with injured paratroopers on board
Eurofighter Typhoon – The Austrian Air Force
Bell 47G – The Flying Bulls
Hawker Hunter T68 – Hunter flying group
L-159 – Czech Air Force
The cutest "follow me" ever!
Serbian AF An-26 was on the static display together with Soko G-4 Super Galeb.
It wouldn't be fair not to mention the great organization of the event. A staff of some 5,000 men and women did their job in a perfect manner. I attended many events in my professional career as photojournalist and I think no one gave so much attention to the press like people from AIRPOWER. The top quality food open buffet, soft drinks, loads of Red Bull, and don't get me started on kindness of personnel, great WiFi coverage and press cafe (according to the host press and photographers ate 4000 hot dogs, 2000 stakes and 1500 hamburgers and god knows how many cans of Red Bull :) ).
AIRPOWER 11 was visited by around 290000 people
Finally I can only give you advice to get ready in time for AIRPOWER 13, because this is an event you shouldn't miss!
Tekst i fotografije © Dimitrije Ostojić 2010
This work by Dimitrije Ostojic is licensed under a Creative Commons Attribution-NonCommercial-NoDerivs 3.0 Unported License.
Based on a work at www.dimitrijeostojic.com/blog